PREVENTION OF BULLYING IN EDUCATIONAL INSTITUTIONS
Keywords:
bullying; cyberbullying; aggressor; victim; prevention;
Abstract
The phenomenon of bullying in educational institutions represents a threat
to the entire educational endeavor and can manifest itself both physically and
verbally, socially or online. The protagonists of bullying are: the aggressor, the
victim and the observer. The typical profile of the aggressor is that of an irritable
person, with poor self-control, vindictive, rigid, and the typical profile of the
victim is that of a vulnerable, silent, solitary, insecure person, there being the
submissive and defiant victim category. The effective prevention of bullying
actions is possible in a multidisciplinary team effort, and the process must take
place on multiple levels: individual, family, school, class, relational, curricular,
by involving all professional and civil organizations, interest groups and
companies that have a relationship with the school and students, including social
services and organizations dealing with health and crime.
References
Buda,M., Kőszeghy,A., Szirmai,E., School Harassment - the unknown friend. The phenomenon is reflected in the research results in Educatio, Volume 3:373-386, 2008,Gîrleanu,D.T., Consiliere în asistență socială, Iaşi, Editura Universității "Alexandru Ioan Cuza", Iaşi, 2002;
Grădinaru,C., Stănculeanu,D., Manole,M., Bullyingul în rândul copiilor. Studiu sociologic la nivel național realizat de Organizația Salvați Copiii, 2016;
Grigore,A.N., Violența în context educațional: forme actuale, Iași, Editura Universității "Alexandru Ioan Cuza", Iaşi, 2016;
Irimescu,G, A new image of violence against children – bullying type behavior/ Une nouvelle image de la violence contre les enfants - comportement de type intimidatio in Annales scientifiques de l'Université "Alexandru Ioan Cuza" Iaşi, Volume IX, 1, 2016;
Jigău,M., Liiceanu,A., Preoteasa,L., Violența în școală, Institutul de Științe ale Educației, Editura ALPHA MDN, București, 2006;
Malecová,B.V., Possibilities of Bibliotherapy in the Prevention of Bullying at Elementary School in Scientific Studies of the Faculty of Education of Catholic University in Ruzomberok, Volume 3:119-136, 2021;
Neamţu,C., Specificul asistenței sociale în școală în Tratat de asistență socială, Iaşi, Editura Polirom, 2003;
Neamţu,G., (coord.), Enciclopedia asistenței sociale, Iaşi, Editura Polirom, 2016;
Olwus,D., Limber,S., The Olweus Bullying Prevention Program. Implementation and Evaluation over Two Decades, In The Handbook of Bullying in Schools: An International Perspective, Edited by Jimerson,S.R., Swearer,S.M., Espelage, D.L., New York: Routledge, 377-401, 2010;
Onofrei,L., Violența în spațiul public. Derapaje ale comunicării, Iaşi, Editura Fundației Academice AXIS, 2015;
Palaghia,C., The phenomenon of school bullying. Victimological and criminological perspectives in University Journal of Sociology, 1(HorsSer):121-134, 2019;
Várnai,D., Zsíros,E., Németh,A., Broader context of bullying: from the aspect of several school level and social level variable in Social Science Journal, Volume 5(4):65-79, 2016; DOI: 10.18392/METSZ/2016/4/4;
World Health Organization, Health behaviours among adolescents in Romania:
Health Behaviour in School-aged Children (HBSC) study 2018: Research report, 2020;
https://consiliulelevilor.ro/wp-content/uploads/2022/08/Raportul-privindimplementarea-Statutului-elevului-la-nivel-national-2020-2021.pdf
https://copii.gov.ro/1/s-a-lansat-aplicatia-educatie-fara-bullying/
https://dingrijapentrucopii.gov.ro/1/
http://www.telefonulcopilului.ro/arhiva-noutati?id=3027
http://www.telefonulcopilului.ro/stop-bullying
https://www.salvaticopiii.ro/sci-ro/media/Documente/Studiu-Peste-un-sfertdintre-copii-au-fost-agresori,-jumatate-spun-ca-au-fost-victime-ale-bullyingului.pdf
https://www.sts.ro/ro/comunicate-de-presa/119-numar-unic-de-telefon-la-nivelnational-pentru-cazurile-de-abuz-impotriva-copiilor
Law no. 272 of June 21, 2004 regarding the protection and promotion of children's rights, published in Monitorul Oficial no. 159 of March 5, 2014;
Order no. 4,742 of August 10, 2016 for the approval of the Student Status, published in Monitorul Oficial no. 645 of August 23, 2016;
Law no. 221 of November 18, 2019 for the amendment and completion of the National Education Law no. 1/2011, published in Monitorul Oficial no. 929 of November 19, 2019;
The Methodological Norms of May 27, 2020 for the application of the provisions of art. 7 para. 1 ind. 1, art. 56 ind. 1 and point 61 of Law no. 221/2019 regarding psychological violence - bullying, published in Monitorul Oficial no. 492 of June 10, 2020;
Order no. 5,447 of August 31, 2020 regarding the approval of the framework Regulation for the organization and operation of pre-university education units, published in Monitorul Oficial no. 827 of September 9, 2020;
Order MAI no. 1842 of September 8, 2020 regarding the establishment of the School Safety Police, at the level of the General Inspectorate of the Romanian Police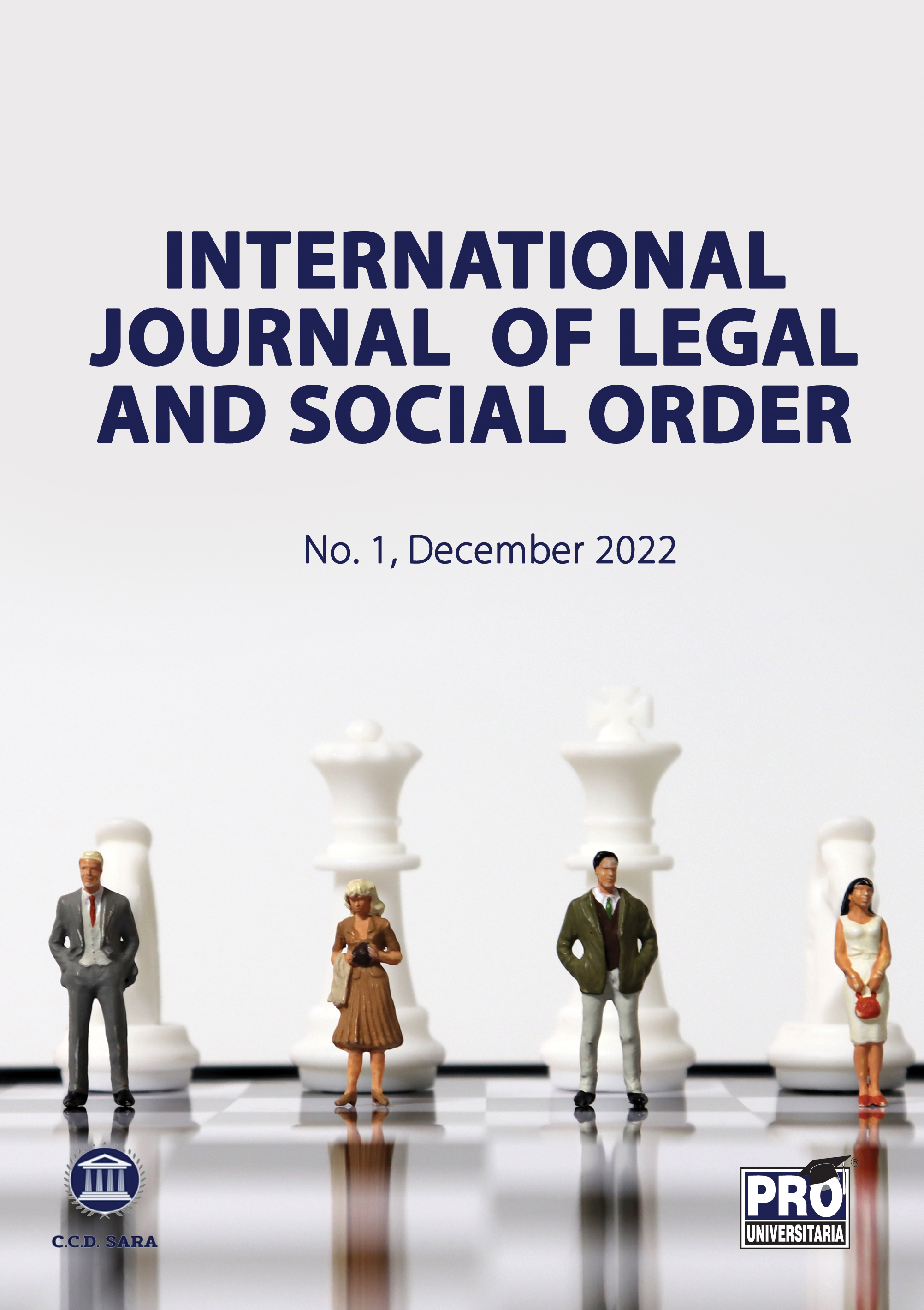 Downloads
How to Cite
Mihaela-Corina, . B. (2022). PREVENTION OF BULLYING IN EDUCATIONAL INSTITUTIONS. International Journal of Legal and Social Order, 1(1). https://doi.org/10.55516/ijlso.v1i1.62
License
Copyright (c) 2022 International Journal of Legal and Social Order
This work is licensed under a Creative Commons Attribution-NonCommercial 4.0 International License.