INTERFERENCE BETWEEN LEGAL AND MEDICAL ISSUES IN THE FIELD OF PALLIATIVE CARE SERVICES
Keywords:
palliative care, patient, service providers, hospital, hospice
Abstract
The population of a country benefits from prevention, curative programs but also from palliative programs, addressed to patients with chronic diseases. Palliative care is defined as a holistic, complex approach to patients with chronic diseases, in order to increase the quality of life of patients and their families. From a legislative point of view, since 2018, all aspects of palliative care have been regulated in Romania as well. As can be seen from the present study, the regulation of palliative services is a complex, far-reaching one, regarding the providers of palliative services and the ways of carrying out their activity, as well as the patients.
Beneficiaries of these services and the interdisciplinary team involved in their provision.
We find through this study that this regulation is a combination of the legal field with elements of medical activity. 
During the Conference "Public safety and the need for high social capital", panel VII, "Protection of human capital in the field of the right to health and social care" was organized, and this study aims to raise the protection of human capital through palliative services, analyzing the stage and content of their regulation at national level.
References
Apan R.D., Bala C.G., "Health regulations to strengthen the capacity to respond to the covid-19 pandemic. Fight against systemic vulnerabilities in medical and social care", in Apan. RD, Bala C.G., coordinators, "Health Law - Challenges during the pandemic", Pro Universitaria Publishing House (2021), Bucharest.
Burz C., coordinators, "The palliative approach in oncology", Iuliu Hațieganu University Medical Publishing House, (2019), Cluj-Napoca.
Ciocan M., Health is a human rights issue; Human rights magazine no. 1/2015, p. 415-428, accessible at: http://www.irdo.ro/file.php?fisiere_id=790&inline.
Turcu I., "The right to health. The common front of the doctor and the jurist", Wolters Kluver Publishing House, (2010), Bucharest.
https://media.hotnews.ro/media_server1/document-2019-02-6-22957740-0-evaluarea -serviciilor-ingrijire-paliativa-romania.pdf.
Palliative care - A human right, http: // www.eapcnet.eu/Link Click.aspx?Fileticket = iSbvDyTxilo%3D & tabid = 1958.
"Package of basic medical services for home medical care and palliative care at home", National Health Insurance House; accessible: http://www.cnas.ro/page/ pachet-de-servicii-medicale-de-baza-pentru-ingrijiri-medicale-la-domiciliu-si-ingrijiri-paliative-la-domiciliu.html.
Romanian Palliation Journal: "Online palliation. Involvement of the family doctor in the palliative care of patients"; accessible at: http://www.paliatia.eu/new/ 2014/04/the-involvement-of-the-family-physician-in-according-palliative-care/?lang=ro.
Accreditation of palliative care services. Guide to the provider of palliative care services for accreditation; 2016.
http://www.studiipaliative.ro/wp-content/uploads/2015/06/Ghid-HCS-acreditare-servicii-paliatie- 2016.compressed.pdf.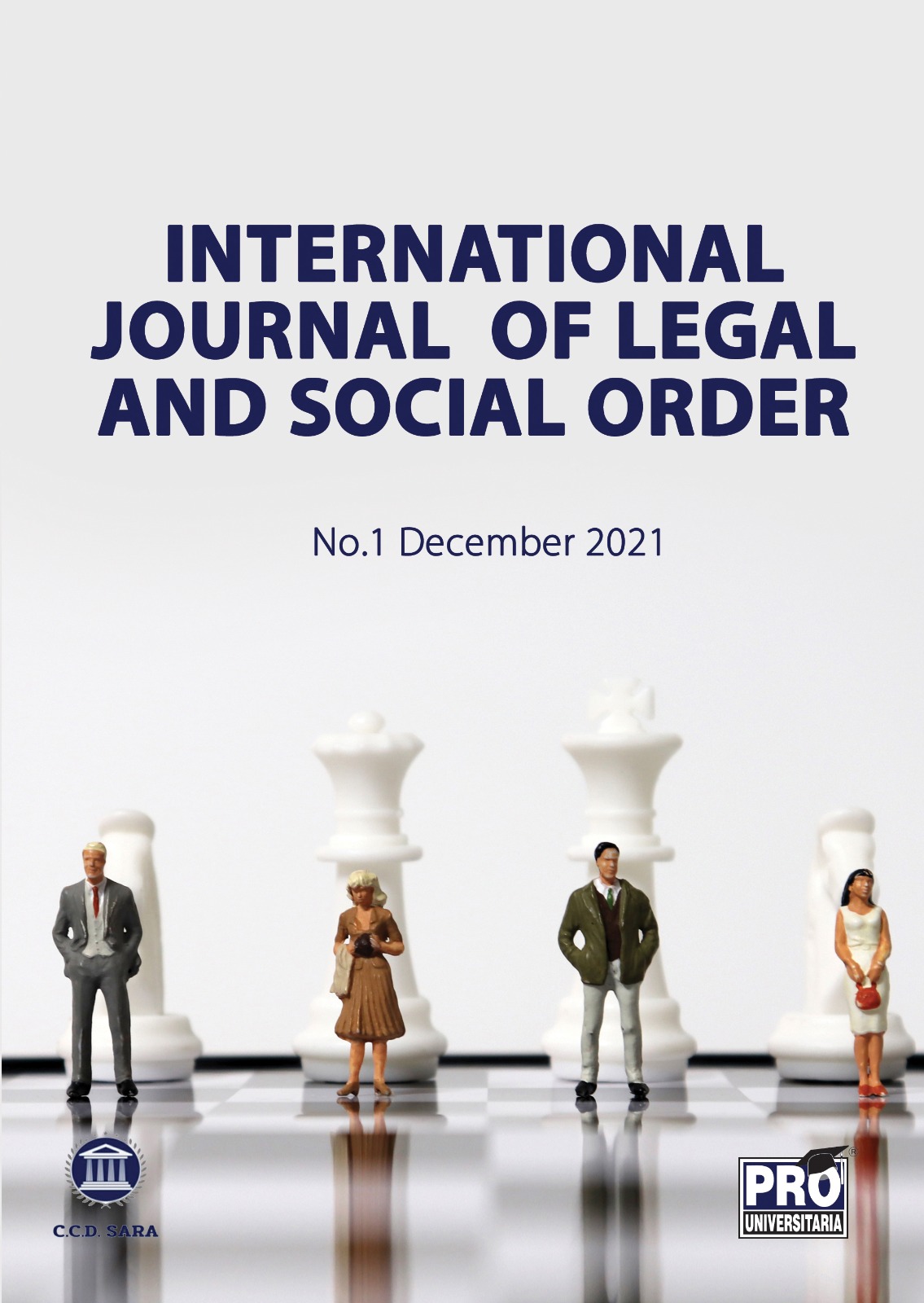 Downloads
How to Cite
Burz, C. C. ., & Apan, R. D. (2021). INTERFERENCE BETWEEN LEGAL AND MEDICAL ISSUES IN THE FIELD OF PALLIATIVE CARE SERVICES. International Journal of Legal and Social Order, 1(1). https://doi.org/10.55516/ijlso.v1i1.27