POLITICAL CULTURE AND ITS ROLE IN THE DEVELOPMENT OF SOCIAL CAPITAL
Cuvinte cheie:
political culture, social capital, poverty, education, society
Rezumat
The aim of this paper is to highlight aspects relating to the relationship between a company's political culture and social capital. Thus, a high level of political culture leads to the development of the social capital and the whole social body in general. At the same time, the relationship between the two concepts is directly influenced by other elements such as the level of education or the standard of living of an individual.
Referințe
Almond Gabriel and Bingham Powell, Comparative Politics: A Developmental Approach, Boston: Little, Brown and Company, 1966.
Anderson, Benedict, Imagined Communities. Reflections on the Origin and Spread of Nationalism, London, 1991.
Asiminei, Romeo, Electoral sociology. Elections, voters and voting behaviors, Editura Universității "Alexandru Ioan Cuza", Iași, 2013.
Cornea, Sergiu, Introduction to political science, State University "B.P.Hașdeu" of Cahul, Cahul, 2008.
Miroiu, Adrian, Marian Zulean, Public policy analysis, Editura Politeia, București 2002.
PaviganI, Walt G.E, GIlson L., Health sector development: from aid coordination to resource management, CRC Press, 2007.
Putnam, Robert, Turning in, Turning out: The Strange Disappearance of Social Capital in America, Political Science and Politics, 1995.
Schnapper, Dominique, What is citizenship? translated by Ana Luana Stoicea, Editura Polirom, Iași, 2001.
Ungureanu, Mihai, Institutions, individual choices and collective actions, Editura Polirom, Iași, 2014.
Adam, Portes, Social Capital: its origins and applications in modern sociology, Annual Review of Sociology, 3/1998.
Popescu, Luminiţa Gabriela, Social capital, a strategic approach for a viable local governance? Transylvanian Journal of Administrative Sciences, nr. 2(29)/2011.
Preda, Diana, Social capital. Role and functions in modernizing industrial relations, National Institute of Economic Research "Costin C. Kirițescu", Series "Economic Studies and Research", Vol. 4/2003, București, 2003.
www.researchgate.net
www.danutj.wordpress.com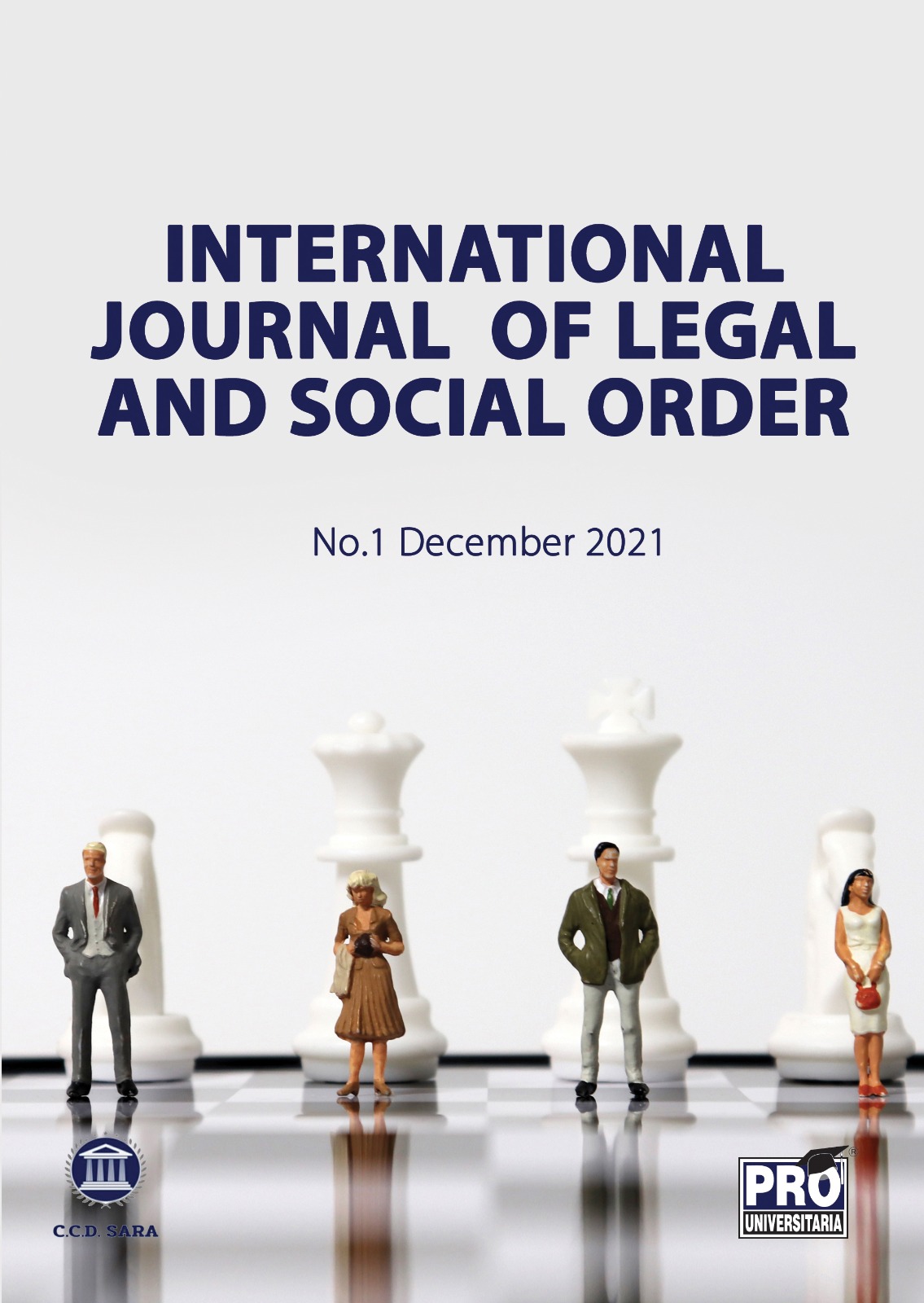 Descărcări
Cum cităm
Vasilache, L. M. . (2021). POLITICAL CULTURE AND ITS ROLE IN THE DEVELOPMENT OF SOCIAL CAPITAL. International Journal of Legal and Social Order, 1(1). https://doi.org/10.55516/ijlso.v1i1.34
Secțiune
Section:Social Order