PERSONAL SAFETY IN COMPLIANCE WITH THE REGULATIONS OF THE ROMANIAN PENAL CODE
Cuvinte cheie:
freedom, security, computer system, computer data, cybercrime
Rezumat
Guaranteeing liberty and security rights is a fundamental principle of law state and its legal regulation is a priority in the legal systems of the countries of the European Union.
The rapid development, of technology information and its applicability, in the last decades, have ensured its access in all sectors of life, from economic to social and cultural. With these premises, cybercrime has become a field of maximum and acute actuality.
By promoting and protecting the fundamental rights of citizens and the state law, the right to liberty and security of person and in the cyber environment must be guaranteed.
The Romanian legislator shows an active and constant interest in the field, by substantiating and updating the internal normative framework that regulates information systems, as well as by ratifying the legal documents issued by the Council of Europe.
Referințe
Drăganu, Tudor, Constitutional law and political institutions: Elementary treaty. Bucharest, Lumina Lex Publishing House, vol. 1, 1998.
Ioniţa, Gheorghe-Iulian, Cybercrime and digital forensic investigation - terminological and content controversies, in Forensic Magazine, June 2010, vol. XI, no. 3, Ed. Of the Romanian Association of Criminalists, Bucharest, 2010.
Macovei, Monica, Freedom and security of the person: Guide to the implementation of Article 5 of the European Convention on Human Rights. Manual no. 5. Chisinau, Directorate-General for Human Rights, Council of Europe, 2003.
Vasiu, Ioana, Computer crime, Nemira Publishing House, Bucharest, 1998.
Penal Code (Law no. 286/2009 published in the Official Gazette).
Law no. 365/2002 on the regulation of electronic commerce amended by Law no. 121 of May 4, 2006.
Law no. 64/2004 for the ratification of the Council of Europe Convention on Cybercrime.
Convention of November, 23th, 2001 on Cybercrime.
Law no. 678/2001 on preventing and combating trafficking in human beings.
Law no. 196/2003 on preventing and combating pornography republished in M. Of.
no. 198 of March 20, 2014.
Law no. 161/2003 on some measures to ensure transparency and exercise of public dignity, public office and business environment, prevention and sanctioning of corruption.
http://www.criminalitatea-informatica.ro
www.eur-lex.europa.eu
www.coe.int.ro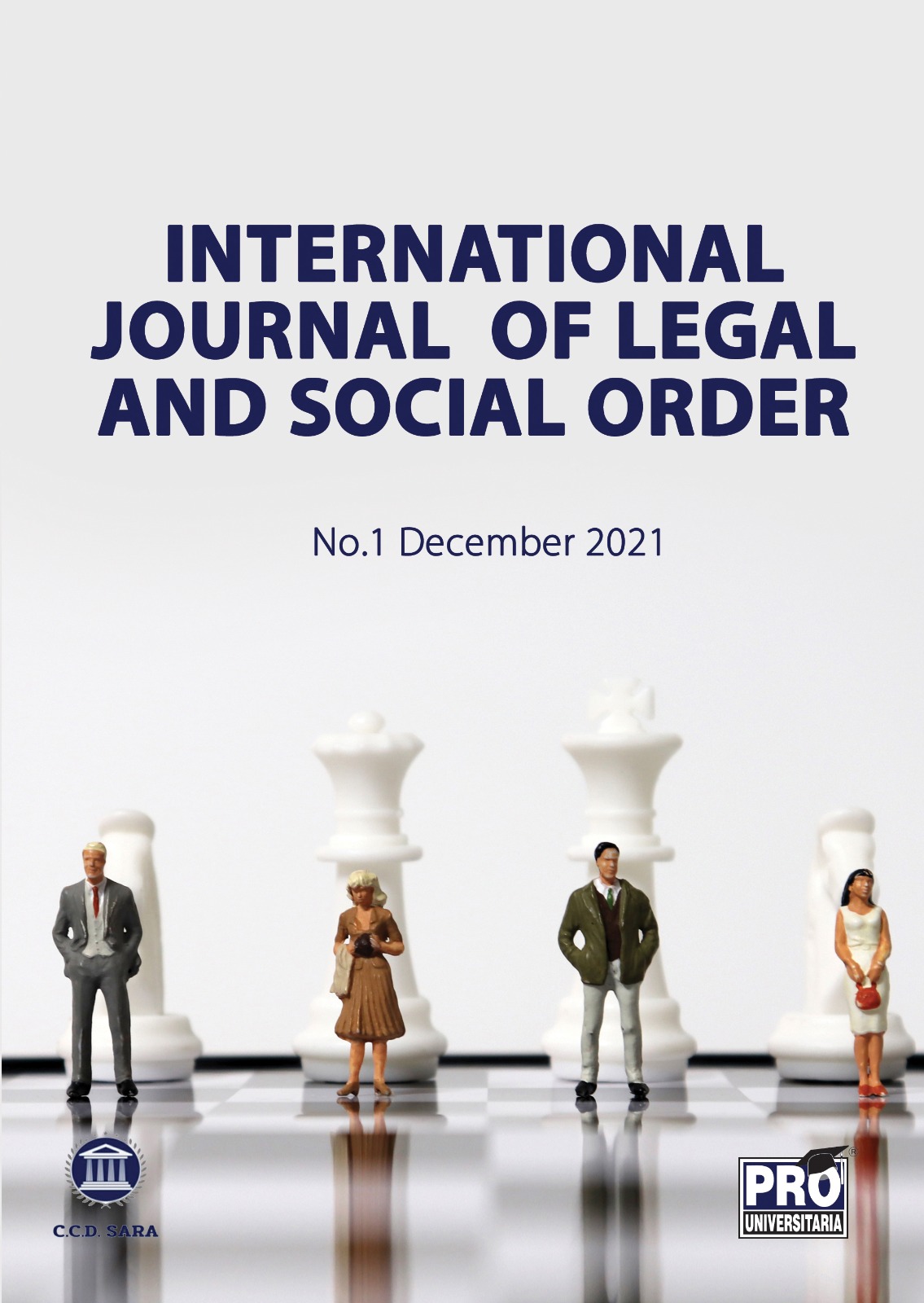 Descărcări
Cum cităm
Popescu, M. G. (2021). PERSONAL SAFETY IN COMPLIANCE WITH THE REGULATIONS OF THE ROMANIAN PENAL CODE. International Journal of Legal and Social Order, 1(1). https://doi.org/10.55516/ijlso.v1i1.39