CONSIDERATIONS REGARDING THE OPERATION OF MILITARY POLICE, AS AN INTEGRAL PART OF THE JUDICIARY
Cuvinte cheie:
military police, judiciary, safety, social capital
Rezumat
Judicial safeguards are particularly important and regulated in detail as fundamental human rights, in proceedings brought before domestic, as well as international criminal courts, with pertinent provisions being established as to the legality of the crime and of punishments.
At present, in the series of specialized conferences with a role in highlighting the importance of implementing the concept of "need for high social capital", it is emphasized that the application of the principles of criminal proceedings provides the foundation for citizen protection as an integral part of public safety, the entire edifice of criminal procedure rules being built on these principles.
Basically, the need for social security offered through the activity of forensic investigation of criminal offences cannot be dispersed among disciplines auxiliary to forensic science without the major contribution of criminal law.
Referințe
Law no. 304 of 28th June 2004 on judicial organization, published in the Official Journal no. 827 of 13th September 2005.
The Code of Military Justice of 1937, Art. 77, Art. 78; http://legislatie.just.ro/Public/ DetaliiDocument/34846
Order no. 1428 of 12th September 2006 for the approval of "P.M. - 2, Rules regarding the conditions in which special combat vehicles can travel on public roads, the control of motor vehicles belonging to the Ministry of Defence and the accompaniment of military columns", unpublished.
Order of the Minister of Internal Affairs no. 216/2009 regarding the criminal investigation of the personnel in the structures of the Ministry of Internal Affairs, published in the Official Journal no. 631 of 23rd September 2009.
Draft Law on the duties, organization and operation of military police, https://www.google.ro/search?q=proiect+lege+politie+militara+camera&
Internal regulations of the prosecutor's offices, published in the Official Journal of Romania, Part I, until 5th June 2020.
Treaty on the European Union – TEU, https://eur-lex.europa.eu/resource.html?uri= cellar:2bf140bf-a3f8-4ab2-b506-fd71826e6da6.0001.02/DOC_1&format=PDF
Iancu Elena-Ana, Lazau Pacuraru Marin, General Aspects and Particularities of the Hearing of Persons with a Special Status; https://drive.google.com/file/ d/1C3rFWneWuPip9dihoOjAq8-iJLiHIr_U/view Revista Română de Studii Eurasiatice, no. 1-2/2019, 13 p. (p. 205-218 p.), Revista Română de Studii Eurasiatice ~ Revista Română de Studii Eurasiatice (Romanian Journal of Eurasian Studies), Year XV, No. 1-2/2019.
Siserman Viorel,, Justiția militară în România, tradiție și actualitate (Military Justice in Romania, Tradition and Topicality), Editura Militară (Military Publishing House), Bucharest, 2004, pp. 127-132.
Zidaru Petrache, Tribunalele militare - un secol şi jumătate de jurisprudenţă (1852 - 2000) (Military Courts - a Century and a Half of Jurisprudence), Editura Universul juridic (Publishing House), Bucharest, 2006, pp. 195-203.
von der Leyen Ursula, https://www.g4media.ro/, accessed on 15th October 2021.
http://pcaconstanta.mpublic.ro/regulament_pca.htm
https://eurogendfor-org
https://www.europarl.europa.eu/factsheets/ro/sheet/159/politica-de-securitate-si-aparare-comuna
https://www.google.ro/search?q=proiect+lege+politie+militara+camera&sxsrf=AOaemvKescmehU7PjpDIRzEgLi6J3GXog:1634891115899&ei=a3VyYdCNom6kwXtroPwAw&start=0&sa=N&ved=2ahUKEwif5NWBzN3zAhUJ3aQKHW3XAD44FBDy0wN6BAgBEEA&biw=1588&bih=728&dpr1
http://www.cdep.ro/pls/proiecte/upl_pck2015.proiect?cam=2&idp=18515
https://www.mpublic.ro/ro/content/spm-serviciul-de-urmarire-penala-si-judiciar
https://www.g4media.ro/ursula-von-der-leyen-uniunea-europeana-trebuie-sa-dobandeasca-vointa-politica-pentru-a-si-construi-propria-armata.html
https://eur-lex.europa.eu/resource.html?uri=cellar:2bf140bf-a3f8-4ab2-b506-fd71826e6da6.0001.02/DOC_1&format=PDF
https://en.wikipedia.org/wiki/Civil-military_co-operation
www.forter.ro
www.mpublic.ro/ncpp.pdf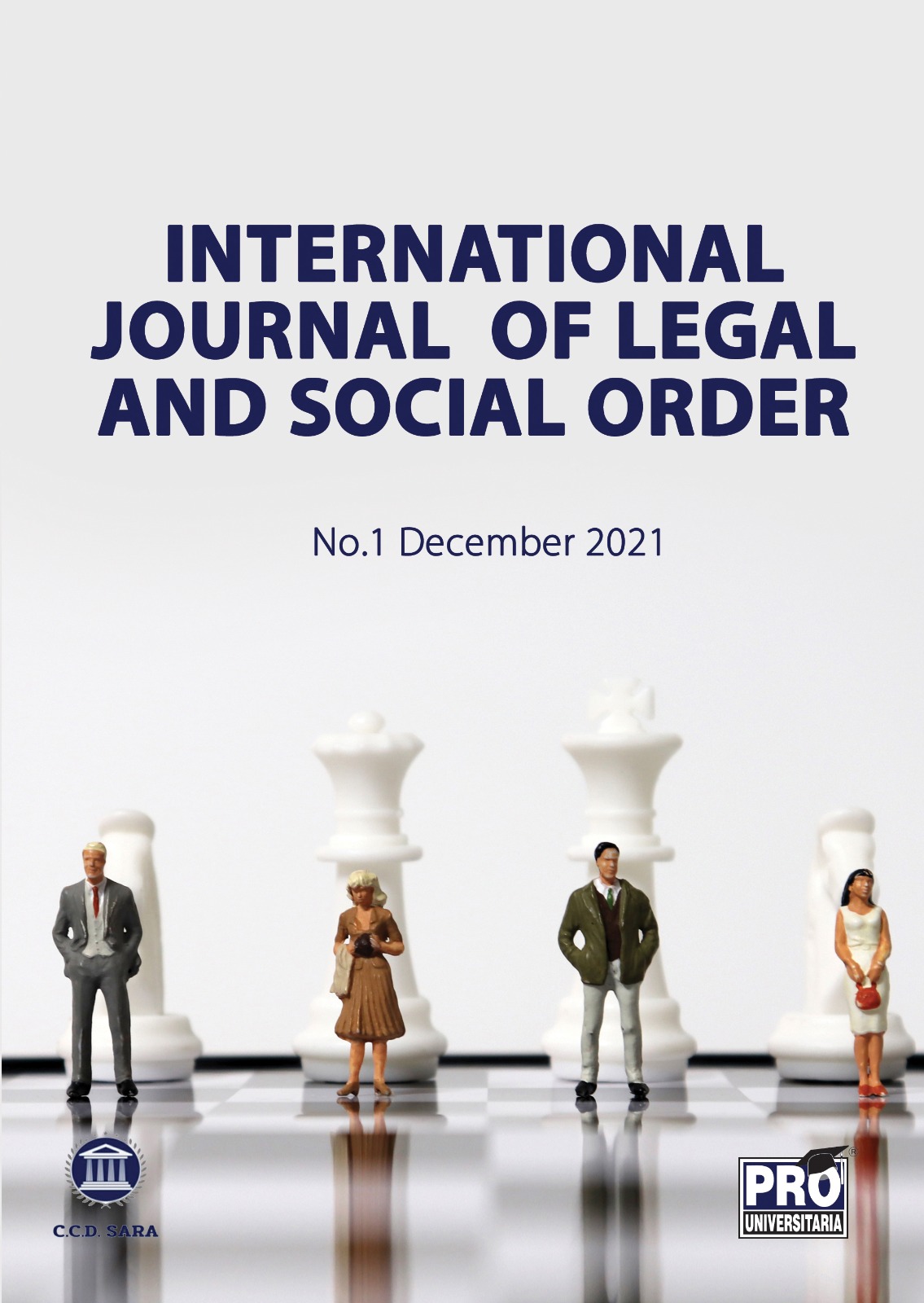 Descărcări
Cum cităm
Lazau-Pacuraru, A. (2021). CONSIDERATIONS REGARDING THE OPERATION OF MILITARY POLICE, AS AN INTEGRAL PART OF THE JUDICIARY . International Journal of Legal and Social Order, 1(1). https://doi.org/10.55516/ijlso.v1i1.48